Your host Egon is one of the most experienced paragliding tandem pilots in South Tyrol. Egon has been cultivating this passion since 1986 and is therefore one of the pioneers of paragliding in Italy. Thanks to his 30 years of flying experience in tandem flying with countless passenger flights and flying hours, you can confidently entrust yourself to him and enjoy an unforgettable vacation experience and take it home with you!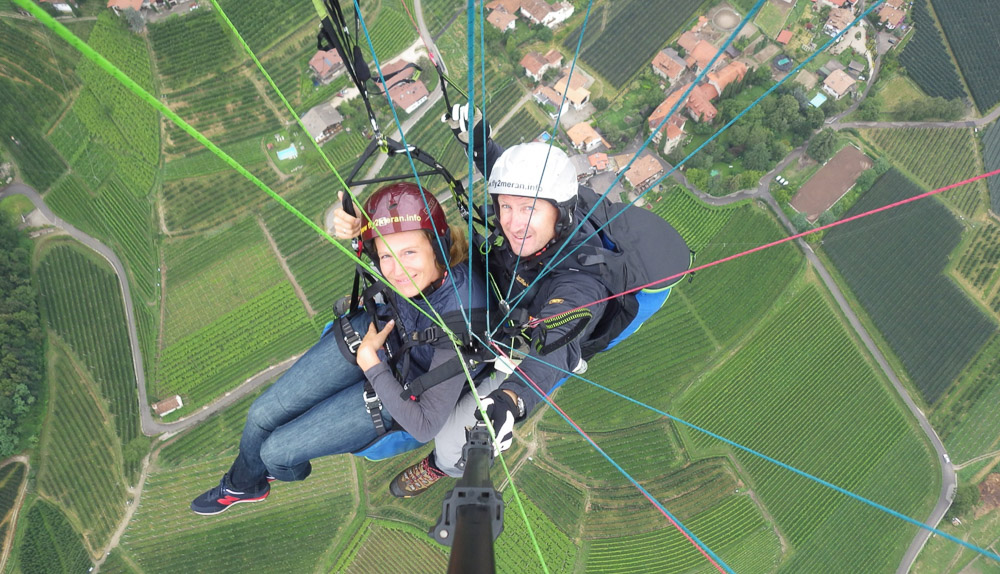 Our local mountain, the Mut, the nearby Vigiljoch, the area of Merano 2000 and the Hirzer are all available as flying areas for you to experience with Egon from lofty heights. The arrival is by car to the valley station of the cable car of the respective areas, after the comfortable ascent it is only a few steps to the starting point. From there, after a short briefing, you will take off into the air. You have the choice between quiet gliding in the morning, crisp thermal flights over the highest peaks of our mountains at lunchtime or relaxed evening flights in the warm, last upwind of the day.
Egon can hardly wait to show you our beautiful country from above!